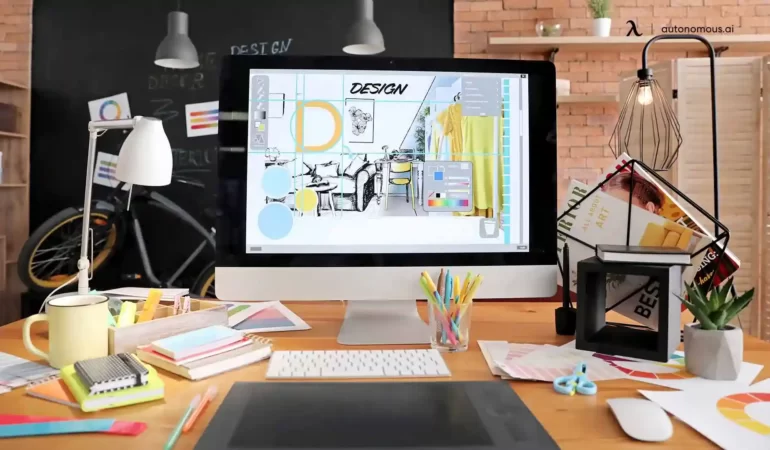 Are you looking for a Graphic Designing Course in Mohali?
You can get up-to-date details on our graphic design training and very crucial information in this article about the graphic design course in Mohali. As a graphic designer, you must be skilled with some applications and have excellent visualization. The fields of web and graphic design pay well and are simple to master. As a graphic designer, your potential income is $50,000. You can also register for specific graphic design tests to validate your knowledge.
Graphic design, sometimes called communication design, is the art and practice of structuring and conveying ideas and experiences of textual and visual content. The use of words, phrases, or visuals in communication, whether it takes physical or digital form.
Top 10 Graphic Designing Training Institutes in Mohali
Here is the list of the Top 10 Best Graphic Designing Training Institutes in Mohali
In Mohali, Daira Tech Skills Academy offers the top graphic design course. Art is what graphic design is. With Graphic Design, we can produce logos, flyers, ads, brochures, magazines, business stationery, and a wide range of other imaginative ideas. Using lines, forms, colors, and texture, many original concepts can be generated. They make use of photos, illustrations, logos, and symbol-based designs.
It is the skill of fusing written and visual content. Daira Tech Skills Academy Technology offers additional professional training programs, including a Web Designing course in Mohali, an SEO course in Mohali, a Digital Marketing course in Mohali, a Video Editing course in Mohali, PHP training in Mohali, 6 months of industrial training in Mohali, and more, depending on your needs.
Contact Details
Location : SCO 47, 2nd Floor, Sector 11, Panchkula, Haryana, 134109 
Phone No. : +91-6283836641 
2. Excellence Technology - Graphic Designing Institute
Excellence Technology offers graphic design classes in Chandigarh and Mohali. It is one of the top-rated, ISO 9001:2015-certified software development and industrial training businesses. They provide services for mobile applications, games, antivirus software, websites, and other things. They also provide the best industrial training in Chandigarh and Mohali.
They utilize software testing, Java, Python, Android, PHP, Machine Learning, Web Design, and networking. They work with our international clientele from Australia, Finland, Mongolia, Sudan, France, Germany, the United States, and the United Kingdom. Our students will have the chance to work on actual projects for our international clients while they are completing their six months and six weeks of industrial training in Chandigarh.
Excellence Technology is a reputable business that offers advanced 6-month and week-long industrial training programs in Chandigarh, Mohali, and Panchkula.
Address: C-133 1st Floor Industrial Area Phase-8, Sector-72, Mohali
3. MAAC - Best Graphic Designing Training
In Tricity, MAAC Chandigarh is well-known as a leader in training programs for high-end 3D animation, VFX (Visual Effects), game design, digital filmmaking, graphic design, and digital photography.
It wants to give its students comprehensive outcomes. Today, MAAC Chandigarh can proudly say that it is the only institute in India to have received certification from the International VFX and Animation Council. It has three academic locations spread throughout the Tricity and has successfully trained over 800 students (IVAC). 
An advantage over other comparable companies in terms of quality and standard is provided by having more than 12 experienced and professionally qualified tutors working over the timeline. Our achievements are a result of the loyalty and happiness of our past clients.
Address: Sector 17D, Above Hot Millions, S.C.O. 73/74/75 Chandigarh, 160017
4. PPCChamp - Graphic Design Institute In Mohali
PPCChamp provides the best training based on current market trends. The institution has consistently maintained its standing as an authority on web design. Nowadays, getting a job at a reputable company is simple. If you are one of the many people who are young at heart, just out of college and want to begin your career in web development and programming, this is the best institute for you.
Address: Sector 34A, SCO 54-55, 3rd Floor, Chandigarh, 160034
Timings: 9 am to 9 pm
5. CBitss - Graphic Design Training Institute
Everywhere you look, from websites to appealing product packaging to mobile phone apps and portals, you may find the work of a graphic designer. However, a good design also requires a strong programming and development base. The work of a developer is this. At CBitss, website design may be learned extremely effectively.
Address: Sector 34-A, 24-25, 3rd floor, Chandigarh, 160022
6. Webtech Learning – ISO Certified Academy
The best training facility for website design is Webtech Learning. The best website design training is offered by Webtech Learning Animation around the city. Learning web design is education with a focus on professionalism. The institution offers top-notch education and training in this specialized area. Students who complete a course at Webtech Learning receive 100% placement assistance.
Address: Sector-34A, SCO-54-55, 3rd Floor, Chandigarh, 160034
7. Techedo - Graphic Designing Academy
In Chandigarh, Techedo is well-known for providing the top graphic design instruction. They provide the most thorough training in graphic design.
Techedo is an IT software company that provides technical education and training to job seekers who want to advance their technical knowledge and job prospects. They provide software training for cutting-edge technologies by utilizing top professionals and specialists who have experience with global brands.
Address: Sector 34-A Sco-134-135-136, First Floor, Chandigarh
8. CIIM (Chandigarh Institute of Internet Marketing)
The top organization in India offering graphic design training for high-end websites is CIIM. The top web design course in the city is offered at this college. This institution has produced outstanding outcomes. Many successful professional web designers have graduated from CIIM.
Address: Sector-34A, SCO- 54/55, 3rd Floor, Chandigarh
The most innovative training and recruitment company, Apponix Technologies Private Limited, is based in Bangalore and offers classroom and online training throughout India, the UK, and the USA.
The greatest graphic design program in Chandigarh is provided by Apponix. They employ professionals with the most experience who are knowledgeable about a variety of design platforms.
Apponix is synonymous with professionalism and high-quality service, setting the standard with ground-breaking ideas and relentlessly pursuing excellence. They lay the groundwork for a prosperous career with a comprehensive approach centered on fulfilling the long-term requirements of both employers and employees.
Address: Rajajinagar, 306, 10th Main, 46th Cross, 4th Block Bangalore – 560010
One of the top businesses in the fields of Python, Ios, Graphics, Computer Training Institutes For Website Designing, Mean Stack, and other technologies is Technofy INDIA, located in Mohali, Chandigarh.
Address: Sector 74, Mohali, Chandigarh.
I believe that after reading this article, everyone is aware of the top 10 graphic coaching facilities in Mohali. Select the option that is best for you.